Posted by Caroline Olah on Aug 12th 2014
http://hear.ceoblognation.com/2014/08/11/mompreneuer-female-inventor-puts-fashionable-face-self-defense/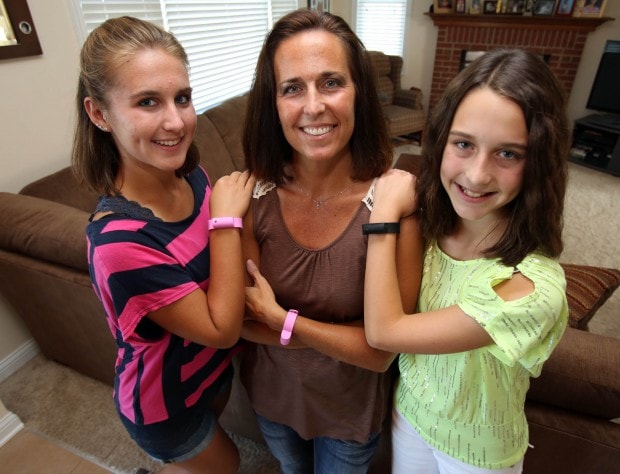 Image Credit: Caroline Olah
Mompreneuer and Female Inventor Puts a Fashionable Face on Self-Defense
Mompreneur Caroline Olah knows the world isn't like it used to be. Danger can come in any form and being prepared is key to being safe. That's why she invented the Little Viper. A fashionable bracelet which is also pepper spray self-defense bracelet. Read below for an interview with Carolina on how she got her business off the ground.
Why did you start your business?
I have two daughters and realize that the world we live in is a dangerous place. Dropping them off at the local mall isn't the same as when I was their age. There's always the risk of danger so I would give them a small can of pepper spray. However, the cans on the market are ones you have to hold in your hand. Inevitably, they would have to put them in their purse or sweatshirt pocket- thus, if someone attacked them out of nowhere, they wouldn't be able to even use them! Pepper spray on the market (before the Little Viper) was only a viable option if you had it in your hand and were ready with it. If you were caught off guard, what would you do? Danger doesn't just happen where you "think" it might. Sure, there are places we think are more dangerous than others but the fact remains that we can be attacked at anytime and anywhere. So I decided to design a pepper spray bracelet that people can wear and not even have to think twice about being 'armed' for danger.

I wanted something that also looked fashionable so people would enjoy wearing it while it served a dual purpose of function and fashion. Furthermore, I knew that most pepper spray products on the market are cumbersome- resulting in many people not wanting to carry them. The Little Viper is something that can be worn anywhere at any time, without anyone even knowing you're carrying pepper spray. Think about it: would you ever bring a small can of pepper spray on a blind date or while shopping at the mall and keep it in your hand the entire time "just in case"? Probably not. But now, you can wear this adjustable fashion bracelet and nobody will know you're carrying pepper spray- truly "ready at a moment's notice". The Little Viper is a self-defense item that is aimed at allowing the victim just a little bit of time to escape, alert others to help, and give the victim a 'chance' to get out of the situation unharmed. It's intended to be that 'extra help' you need when danger arrives.
How did you come up with your business name?
I brainstormed with my family to think of a name that represented "protector".
A viper injects its venom when protecting itself much like the Little Viper shooting its pepper spray to protect. So this 'tiny self-defense' system is just like a "little viper".
Tell us about your business and product.
The silicone bracelet is "one size fits most" and is 8.5″ long. It has three buttons so you can adjust it according to your wrist size. It's extremely lightweight weighing only 1 ounce and contains 3-6 bursts of 10% OC pepper spray. When people see it, they have NO idea it is a pepper spray/self-defense bracelet. You can't see the pepper spray; there's no indication of it anywhere visible to the normal user. The bracelet is both fashionable and comfortable for everyday use and also water resistant for joggers, hikers, and other sports enthusiasts who may sweat while participating in their adventures- however, we don't recommend submerging it under water for swimming/bathing, etc.

The bracelet contains a small pepper spray canister that has to be firmly pressed on both sides. It's very easy to use but very difficult to be discharged accidentally since you need your fingers (or something else) pressing both sides at the same time. Unlike most pepper sprays on the market today, you aim the Little Viper at your target and press the sides–that's all there is to it. No switches to disengage, no extra buttons to press. When you're in a true emergency, you don't have time to think let alone move switches in order to enable a safety device so I wanted the Little Viper to be as easy as possible to use.
We officially launched the product in July 2013. We sell to dealers/distributors and also end users via our website.
What was the process for developing your product? How long did it take?
I took over a year designing it and ensuring it was a quality product. I first did some sketches of what I wanted it to look like and then hired a CAD designer to put my designs on electronic (computer) files. After that, I researched companies who could supply me with the materials to make it. I tested different materials along the way until I was sure that silicone would offer the best functionality and fit. The bracelet is silicone and adjustable as well. I designed it to fit "most" wrist sizes with 3 button snap lengths.

After I made a working prototype, then I ordered the supplies in bulk and starting making them for resale. I designed the packaging as well and found the best supplier for that. I designed a website myself, began social media pages for the business, and found other free methods of advertising and marketing such as press releases and blogs. I also designed a free iOS safety app as a marketing tool and 'add on' that we continue to offer FREE of charge – It has a loud alarm, flashing light, and a geolocation feature. It's a FREE download in the iTunes store and is available for iPhone, iPad, and iPod Touch.
Filing for trademarks, patents, etc. also came with the territory.
Where do you see your business in the next few years?
I see it as a larger company than right now- with the Little Viper in many retail outlets from large big box stores to mom and pop shops across the country. I have more products that I am developing right now as well and hope we can bring more self-defense items to the marketplace so that Little Viper is a brand that holds its own against a company like Mace.
What advice would you give to aspiring entrepreneurs and business owners?
"Research" is my key advice. You can research anything. If you have an idea and don't know how to share it, go online and research. You can research how to put your idea on paper, how to begin, and almost anything else. There are many websites and blogs that have people giving their own stories and suggestions or can offer up advice on how or where to find something that you are looking for. You're not the only one with questions and if you put in your time to research, you WILL find the answers you need along the way.

But do NOT give up if you hear 'no' or don't find your answers quickly if it's something you truly believe in. If someone can't make something you want to make, keep looking. You will find someone to assist you or someone who can refer you to someone who can assist you.
If you're not passionate about your idea, I don't suggest pursuing it because you won't have the drive and determination to get past hurdles along the way.